Man Came To Teach The Youth How To Quench Fire In A Church, See What Later Happened (Narration)
---
Hilarious things do happen in Nigeria, and as Nigerians I guess we don't have to worry about how it happens, we just laugh it off and find a solution to it –Guess that is why we are Nigerians.
Like all these hilarious scenarios, here is another epic episode that happened in a church in the country, after a man that was supposed to be an expert at something, and train others in this thing, woefully failed and caused even more problem than the one he is supposed to solve.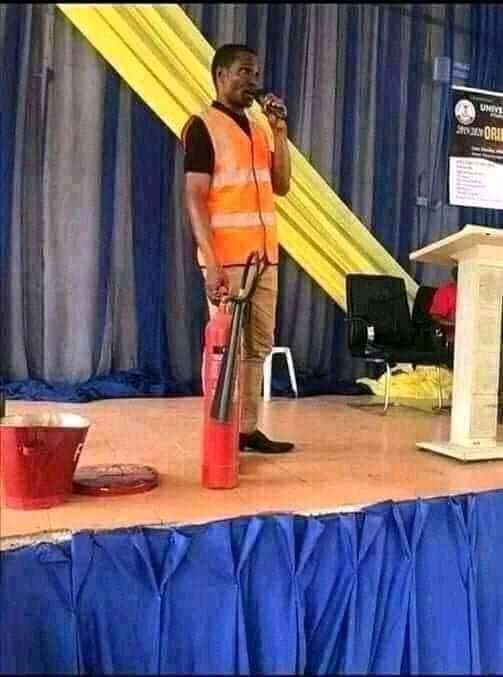 Apparently, the man who is not known seems to have been invited by the church authority, in order to provide the youths of the church adequate knowledge about the use of a fire extinguisher during emergencies.
The church probably organized this due to the information that a lot of Nigerians youths do not know how to use a fire extinguisher, and that it has caused a lot of difficult situations during fire outbreaks.
Therefore, out of the sheer will to contribute, the young man was invited to pitch his training and hopefully make an impact on youth when he is done. He did come handy with a fire extinguisher and a fire can to demonstrate his explanations to the youths.
Recall that Fire cans are often provided with a lid so that it can be closed, and the fire contained if the fire gets out of control.
The lid of the fire can, be seen in the picture below.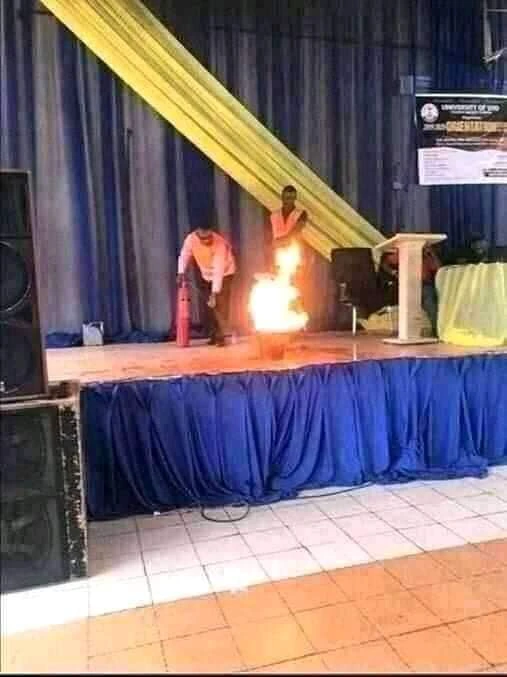 The young man who came with another man to help him out, finished the theoretical aspect of his training and it was time to show all what he explained in a physical demonstration, hence the fire was prepared in the fire-can and the fire extinguisher was handy for practical.
Unknown whether this was due to the error of the extinguisher, outrage of the fire, or incapacity of the man explaining how to use the extinguisher, but the fire broke into a fierce one though I was still contained inside the fire can and instructors could still be seen fidgeting with the extinguishers to wind the fire.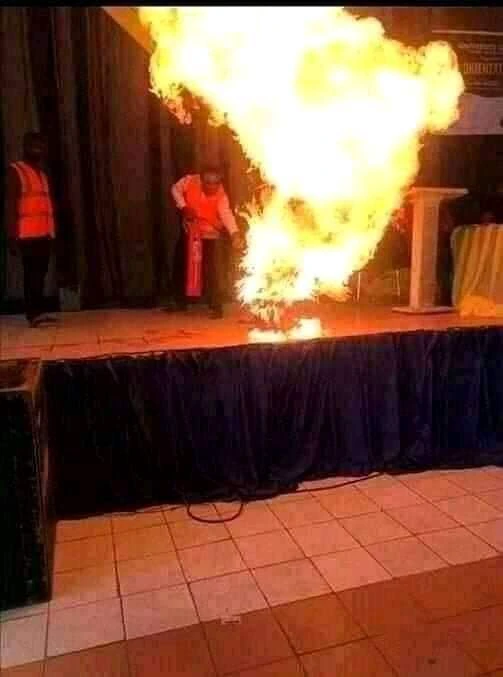 But running out of luck and time, the fire grew bigger and bigger as it rose into the air, and the already began to spread unto the decorating materials that were on the church's podium.
One of the instructors had move backwards, while the other one continued to fight the fire with hopes to quench it before it got out of hand, but with not much luck.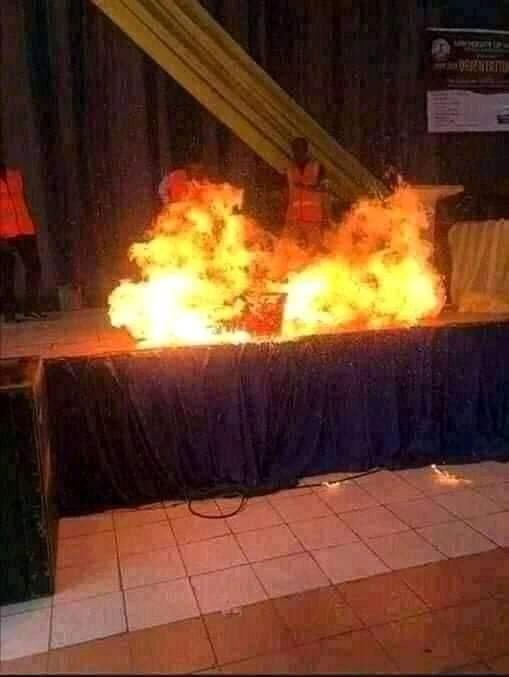 Then the last picture of the scene showed the two instructors now moved away from the fire as it spread all over the material on the podium and threatening to spread even more should it not be taken care of soon.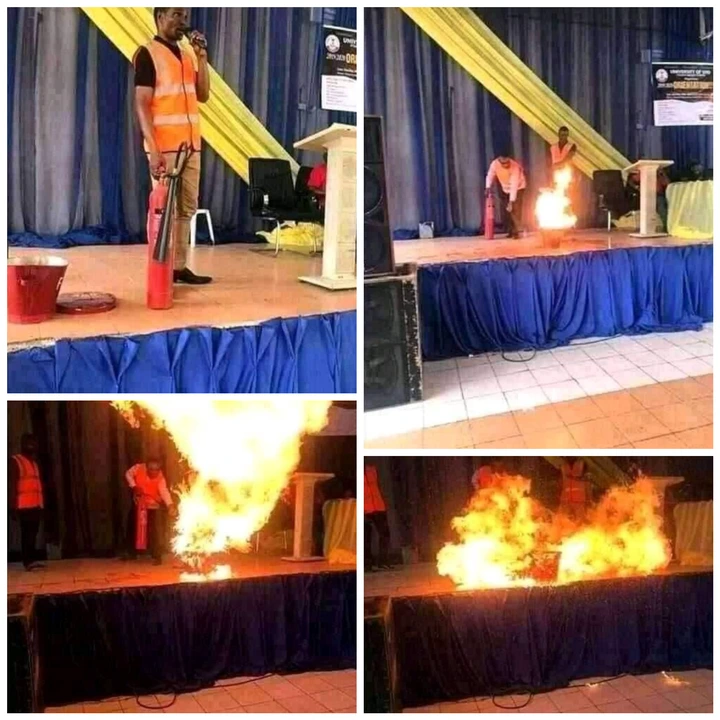 This left me wondering how something like this could happen on the watch of someone that was supposed to be an instructor and trainer for the youth on how to quench fire.
Below are some funny reactions generated when the story was shared by 'Okwudili Onyeka' on a Facebook group (Great Minds Foundation)