BBN: "Ozone ship is sailing"-Here is what Nengi's handler replied Ozo's Handler on Instagram
---
Nengi and Ozo had a really big fight yesterday and sadly, we felt as though the Ozone ship had come to an end. I mean who fights over someone else's meat?
But then, once again, we have been proven wrong that not even the strongest of waves or ocean tides can come in between this relationship.
Today on Instagram, Ozo's handler made a post with the caption, "Good morning family" and Nengi's handler replied the post with "Zaddy I". This love is sweet, oh, even the handlers are using it to catch a cruise on Instagram.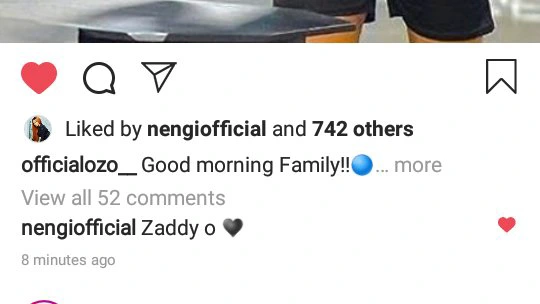 This morning, she woke him up to apologize for what happened yesterday, Ozo seemed to have moved on from it. He told her to forget it ever happened. Could we blame it on the alcohol or that's exactly how she feels about him and just have been pretending all along?
Well, most people don't think so, below are some of the Reactions to this on social media. Follow this page for more updates. Thanks.